I've FINALLY gotten PMS to stream 720p content wirelessly to my PS3 without stuttering nearly 100% of the time. I've been trying for nearly a year to get this to happen, but the stuttering would always start at some point in the movie, usually within the first 10-30 minutes with no stopping once it started.
Obviously, I'm not streaming DTS sound with 1080p resolution, but I AM able to watch 720p mkv files with 5.1 AC3 sound (384 kbits/s) with almost zero stuttering.
I think a lot of it had to do with my router being nearly 120 feet away at the other end of the house with at least six walls between the PS3 and the router. Once I moved the router to the room next door (and did some other minor tweaks in PMS), everything became much easier. Now I don't have to use the TsMuxer GUI to demux and convert DTS tracks to AC3, then remux and split them into 4 GB files onto my 500 GB external and then run it back and forth between the PS3 and my PC to transfer files or play them.
Now I leave my 500GB external plugged into the desktop and stream it directly from there. I was also able to reformat my external back into NTFS so I don't have to split files in order to accommodate the FAT32 4GB file size transfer limit. Its grrrrrrreat!
The crazy part? I can actually stream HD content from my
wireless laptop
to the PS3.
I'm going to post all the relevant info I can think of in hopes that others can use it to do the same thing. While I would love to be able to stream 1080p movies with DTS on a badass gigabit network, some of us don't have the resources to be able to do that. I would have to run a shit-ton of new wiring in my house as well as spend more $$$ on routers, etc. Besides, I'm only in this house for another year and then renting it out after that, so spending the money to install a good network setup (only to move a few months later) doesn't make much sense for me.
For those that are trying this and wondering about my specs:
The desktop:
3.4 Ghz P4
1 GB RAM
500 GB external connected via USB
XP Home
Linksys WRT-54G router with Tomato firmware
The laptop:
2.2 Ghz Intel Core 2 Duo
4 GB RAM
Vista Home Premium 64-bit
The PS3: Original release 60GB (not that it matters, just giving all the info I can)
PMS Settings: I've included some screen captures of PMS to show all relevant settings. Everything not shown is still at the default setting. These settings are for the desktop. The only difference between these settings and the laptop is the selection of 2 cores on the transcoding tab.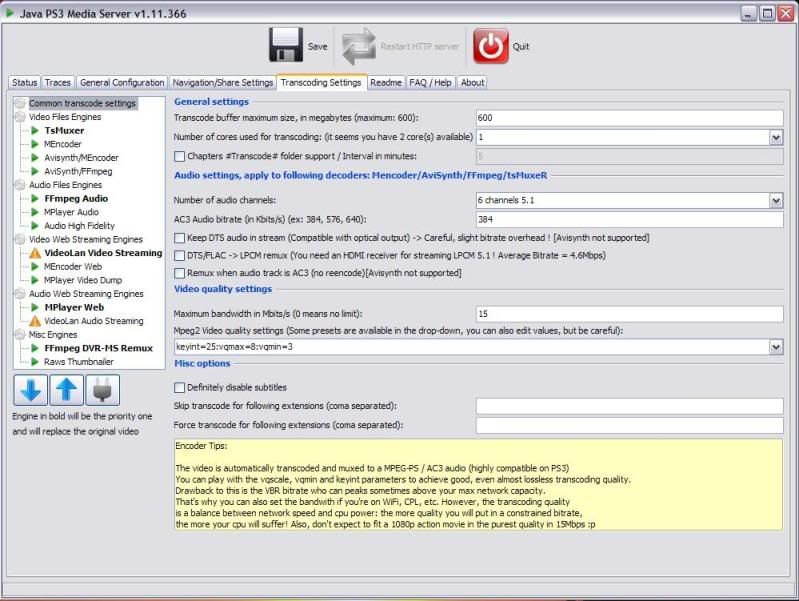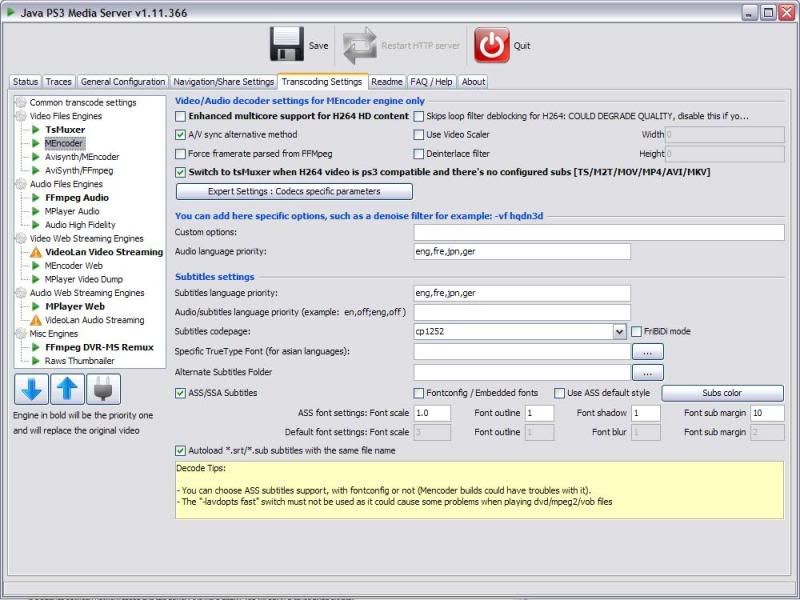 Now, I have to admit that sometimes I do experience SOME stuttering, but its easily corrected by:
1. Hitting L2 to momentarily rewind for no more than 3 seconds. The image won't even change.
2. Hit "X" to continue viewing. I say hit "X" only because pushing Start seems to cause a DLNA error, making the movie start over
or suddenly "corrupt". X just seems to work better.
After hitting X to continue playing, the video may stutter again momentarily, but it usually smooths out within a few seconds.
I may be the only one left trying to stream HD stuff wirelessly, but at least shagrath will know that PMS indeed capable of streaming wireless HD content.
True story.