Hello all, first I have to start off by saying this is by far the best media streamer I have found for my Mac and PS3. This is probably turning into a full time job for the developers and it shows by how this app is developing. Excellent work.
I do have a few issues and some of them might be user error on my part. Im still somewhat new to ripping blurays so its very possible Im doing something wrong. My setup...
iMac i7 8gb RAM 10.6.2
Wired Network with Airport Extreme N
Old PS3
PS3MS v1.20
Denon AVR receiver with HDMI
Workflow...
Rip Blurays to an MKV with MakeMKV or Rip Bluray to m2ts with TSMuxer
So now I have some m2ts files and some MKV files both of which work properly in Plex. However only select files work properly on the PS3. For example, John Mayer - Where the Light Is.mkv works perfectly in Plex, however in PS3MS it shows as corrupted data. Ive redone this MKV file twice as well as made an M2TS and still comes up as corrupted data. Same with the Hangover. I used the same exact settings as I did for the Transformers, which works perfectly in PS3MS. Ive seen other posts regarding this mention re-encoding these but Im not sure what settings top change when I rerip it. Any advice?
Here are my settings pages...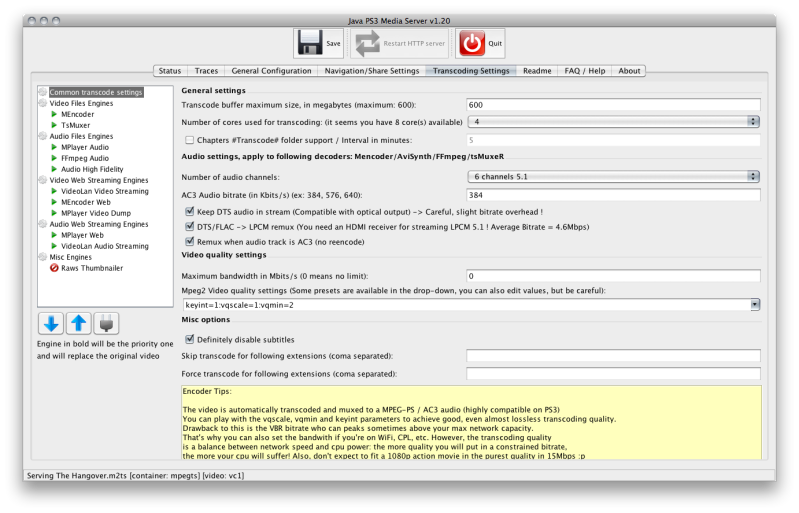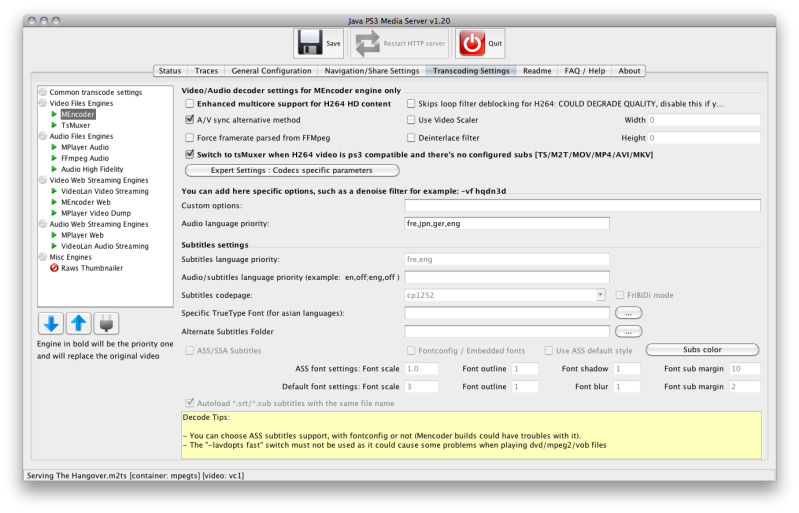 Here is the Traces but Im not sure how to check the logs...
Also, on Bolt, works perfect in Plex, but when its streaming the video is perfect, the audio is in Spanish. Ive tried toggling through the audio tracks and it has every language but English. But like I said in Plex, its all in English.
I cant seem to figure any rhyme or reason why one MKV works and another doesnt, both ripped in the same settings in MakeMKV. If anyone can help me understand what I might be doing wrong, I would love to fix this and have a consistent workflow to get this to work for all my BDs.
Thanks again for all the hard work on this wonderful application.
EDIT: I found the debug.log file...
Code: Select all

[New I/O server worker #1-8] DEBUG 11:21:01.614 Search extension for /Users/Merlins_iMac/Movies/MKV Files/John Mayer - Where the Light is Live in LA (2007).mkv
[New I/O server worker #1-8] INFO 11:21:01.614 Adding John Mayer - Where the Light is Live in LA (2007).mkv / class: net.pms.dlna.RealFile
[New I/O server worker #1-8] INFO 11:21:01.615 Switching John Mayer - Where the Light is Live in LA (2007).mkv to player: MEncoder
[New I/O server worker #1-8] INFO 11:21:01.615 Duplicate John Mayer - Where the Light is Live in LA (2007).mkv with player: MEncoder
[New I/O server worker #1-8] INFO 11:21:01.615 Adding John Mayer - Where the Light is Live in LA (2007).mkv / class: net.pms.dlna.FileTranscodeVirtualFolder
[New I/O server worker #1-8] DEBUG 11:21:01.618 Setting DLNA id 0$0$15$2$5$7$1$2 to John Mayer - Where the Light is Live in LA (2007).mkv
[New I/O server worker #1-8] DEBUG 11:21:01.619 Setting DLNA id 0$0$15$2$5$7$1$2$0 to John Mayer - Where the Light is Live in LA (2007).mkv
[New I/O server worker #1-8] DEBUG 11:21:01.619 Setting DLNA id 0$0$15$2$5$7$3 to John Mayer - Where the Light is Live in LA (2007).mkv
[pool-23-thread-2] INFO 11:21:01.620 Starting /Applications/PS3 Media Server.app/Contents/Resources/Java/osx/ffmpeg -ss 1 -i /Users/Merlins_iMac/Movies/MKV Files/John Mayer - Where the Light is Live in LA (2007).mkv -an -an -s 320x180 -vframes 1 -f image2 pipe:
[Thread-120] DEBUG 11:21:01.729 Input #0, matroska, from '/Users/Merlins_iMac/Movies/MKV Files/John Mayer - Where the Light is Live in LA (2007).mkv':
[pool-23-thread-2] DEBUG 11:21:01.943 Media info of : /Users/Merlins_iMac/Movies/MKV Files/John Mayer - Where the Light is Live in LA (2007).mkv / mimeType: video/x-matroska / container: matroska / bitrate: 0 / size: 34370574349 / codecV: vc1 / duration: 02:32:38.560 / width: 1920 / height: 1080 / frameRate: 23.98 / thumb size : 3110
[New I/O server worker #1-8] DEBUG 11:21:02.994 Handler infos: HTTP/1.1 : GET : get/0$0$15$2$5$7$3/thumbnail0000John+Mayer+-+Where+the+Light+is+Live+in+LA+%282007%29.mkv
[New I/O server worker #1-8] INFO 11:21:02.994 HTTP: get/0$0$15$2$5$7$3/thumbnail0000John+Mayer+-+Where+the+Light+is+Live+in+LA+%282007%29.mkv / 0-0
[New I/O server worker #1-7] DEBUG 11:21:07.504 Handler infos: HTTP/1.0 : HEAD : get/0$0$15$2$5$7$3/John+Mayer+-+Where+the+Light+is+Live+in+LA+%282007%29.mkv
[New I/O server worker #1-7] INFO 11:21:07.504 HTTP: get/0$0$15$2$5$7$3/John+Mayer+-+Where+the+Light+is+Live+in+LA+%282007%29.mkv / 0-0
[New I/O server worker #1-7] DEBUG 11:21:07.505 Asked stream chunk [0-0] timeseek: 0.0 of John Mayer - Where the Light is Live in LA (2007).mkv and player MEncoder
[New I/O server worker #1-7] TRACE 11:21:07.505 Starting transcode/remux of John Mayer - Where the Light is Live in LA (2007).mkv
[osx/mencoder] INFO 11:21:07.696 Starting /Applications/PS3 Media Server.app/Contents/Resources/Java/osx/mencoder -ss 0 -quiet /Users/Merlins_iMac/Movies/MKV Files/John Mayer - Where the Light is Live in LA (2007).mkv -quiet -quiet -oac copy -of mpeg -quiet -quiet -mpegopts format=mpeg2:muxrate=500000:vbuf_size=1194:abuf_size=64 -ovc lavc -channels 6 -lavdopts debug=0:threads=4 -lavcopts autoaspect=1:vcodec=mpeg2video:acodec=ac3:abitrate=384:threads=4:keyint=1:vqscale=1:vqmin=2 -aid 0 -subdelay 20000 -quiet -quiet -ofps 24000/1001 -quiet -quiet -mc 0 -noskip -af lavcresample=48000 -srate 48000 -o - -really-quiet -msglevel all=-1
[New I/O server worker #1-8] DEBUG 11:21:13.800 Handler infos: HTTP/1.0 : GET : get/0$0$15$2$5$7$3/John+Mayer+-+Where+the+Light+is+Live+in+LA+%282007%29.mkv
[New I/O server worker #1-8] INFO 11:21:13.800 HTTP: get/0$0$15$2$5$7$3/John+Mayer+-+Where+the+Light+is+Live+in+LA+%282007%29.mkv / 0-0
[New I/O server worker #1-8] DEBUG 11:21:13.800 Asked stream chunk [0-0] timeseek: 0.0 of John Mayer - Where the Light is Live in LA (2007).mkv and player MEncoder
[New I/O server worker #1-1] DEBUG 11:21:13.806 Handler infos: HTTP/1.1 : GET : get/0$0$15$2$5$7$3/John+Mayer+-+Where+the+Light+is+Live+in+LA+%282007%29.mkv
[New I/O server worker #1-1] INFO 11:21:13.806 HTTP: get/0$0$15$2$5$7$3/John+Mayer+-+Where+the+Light+is+Live+in+LA+%282007%29.mkv / 0-0
[New I/O server worker #1-1] DEBUG 11:21:13.806 Asked stream chunk [0-0] timeseek: 0.0 of John Mayer - Where the Light is Live in LA (2007).mkv and player MEncoder
[New I/O server worker #2-2] DEBUG 13:23:44.337 Search extension for /Users/Merlins_iMac/Movies/MKV Files/John Mayer - Where the Light is Live in LA (2007).mkv
[New I/O server worker #2-2] INFO 13:23:44.338 Adding John Mayer - Where the Light is Live in LA (2007).mkv / class: net.pms.dlna.RealFile
[New I/O server worker #2-2] INFO 13:23:44.338 Switching John Mayer - Where the Light is Live in LA (2007).mkv to player: MEncoder
[New I/O server worker #2-2] INFO 13:23:44.338 Duplicate John Mayer - Where the Light is Live in LA (2007).mkv with player: MEncoder
[New I/O server worker #2-2] INFO 13:23:44.338 Adding John Mayer - Where the Light is Live in LA (2007).mkv / class: net.pms.dlna.FileTranscodeVirtualFolder
[New I/O server worker #2-2] DEBUG 13:23:44.340 Setting DLNA id 0$0$15$2$5$7$1$2 to John Mayer - Where the Light is Live in LA (2007).mkv
[New I/O server worker #2-2] DEBUG 13:23:44.340 Setting DLNA id 0$0$15$2$5$7$1$2$0 to John Mayer - Where the Light is Live in LA (2007).mkv
[New I/O server worker #2-2] DEBUG 13:23:44.340 Setting DLNA id 0$0$15$2$5$7$3 to John Mayer - Where the Light is Live in LA (2007).mkv
[pool-54-thread-2] INFO 13:23:44.341 Starting /Applications/PS3 Media Server.app/Contents/Resources/Java/osx/ffmpeg -ss 1 -i /Users/Merlins_iMac/Movies/MKV Files/John Mayer - Where the Light is Live in LA (2007).mkv -an -an -s 320x180 -vframes 1 -f image2 pipe:
[Thread-334] DEBUG 13:23:44.383 Input #0, matroska, from '/Users/Merlins_iMac/Movies/MKV Files/John Mayer - Where the Light is Live in LA (2007).mkv':
[pool-54-thread-2] DEBUG 13:23:44.497 Media info of : /Users/Merlins_iMac/Movies/MKV Files/John Mayer - Where the Light is Live in LA (2007).mkv / mimeType: video/x-matroska / container: matroska / bitrate: 0 / size: 34370574349 / codecV: vc1 / duration: 02:32:38.560 / width: 1920 / height: 1080 / frameRate: 23.98 / thumb size : 3110
[New I/O server worker #2-2] DEBUG 13:23:45.454 Handler infos: HTTP/1.1 : GET : get/0$0$15$2$5$7$3/thumbnail0000John+Mayer+-+Where+the+Light+is+Live+in+LA+%282007%29.mkv
[New I/O server worker #2-2] INFO 13:23:45.454 HTTP: get/0$0$15$2$5$7$3/thumbnail0000John+Mayer+-+Where+the+Light+is+Live+in+LA+%282007%29.mkv / 0-0
[New I/O server worker #2-8] DEBUG 13:23:49.849 Handler infos: HTTP/1.0 : HEAD : get/0$0$15$2$5$7$3/John+Mayer+-+Where+the+Light+is+Live+in+LA+%282007%29.mkv
[New I/O server worker #2-8] INFO 13:23:49.850 HTTP: get/0$0$15$2$5$7$3/John+Mayer+-+Where+the+Light+is+Live+in+LA+%282007%29.mkv / 0-0
[New I/O server worker #2-8] DEBUG 13:23:49.850 Asked stream chunk [0-0] timeseek: 0.0 of John Mayer - Where the Light is Live in LA (2007).mkv and player MEncoder
[New I/O server worker #2-8] TRACE 13:23:49.850 Starting transcode/remux of John Mayer - Where the Light is Live in LA (2007).mkv
[osx/mencoder] INFO 13:23:49.856 Starting /Applications/PS3 Media Server.app/Contents/Resources/Java/osx/mencoder -ss 0 -quiet /Users/Merlins_iMac/Movies/MKV Files/John Mayer - Where the Light is Live in LA (2007).mkv -quiet -quiet -oac copy -of mpeg -quiet -quiet -mpegopts format=mpeg2:muxrate=500000:vbuf_size=1194:abuf_size=64 -ovc lavc -channels 6 -lavdopts debug=0:threads=4 -lavcopts autoaspect=1:vcodec=mpeg2video:acodec=ac3:abitrate=384:threads=4:keyint=1:vqscale=1:vqmin=2 -aid 0 -subdelay 20000 -quiet -quiet -ofps 24000/1001 -quiet -quiet -af lavcresample=48000 -srate 48000 -o - -really-quiet -msglevel all=-1
[New I/O server worker #2-1] DEBUG 13:23:55.960 Handler infos: HTTP/1.0 : GET : get/0$0$15$2$5$7$3/John+Mayer+-+Where+the+Light+is+Live+in+LA+%282007%29.mkv
[New I/O server worker #2-1] INFO 13:23:55.960 HTTP: get/0$0$15$2$5$7$3/John+Mayer+-+Where+the+Light+is+Live+in+LA+%282007%29.mkv / 0-0
[New I/O server worker #2-1] DEBUG 13:23:55.961 Asked stream chunk [0-0] timeseek: 0.0 of John Mayer - Where the Light is Live in LA (2007).mkv and player MEncoder
[New I/O server worker #2-2] DEBUG 13:23:55.967 Handler infos: HTTP/1.1 : GET : get/0$0$15$2$5$7$3/John+Mayer+-+Where+the+Light+is+Live+in+LA+%282007%29.mkv
[New I/O server worker #2-2] INFO 13:23:55.967 HTTP: get/0$0$15$2$5$7$3/John+Mayer+-+Where+the+Light+is+Live+in+LA+%282007%29.mkv / 0-0
[New I/O server worker #2-2] DEBUG 13:23:55.967 Asked stream chunk [0-0] timeseek: 0.0 of John Mayer - Where the Light is Live in LA (2007).mkv and player MEncoder
[New I/O server worker #2-4] DEBUG 13:25:43.865 Handler infos: HTTP/1.0 : HEAD : get/0$0$15$2$5$7$3/John+Mayer+-+Where+the+Light+is+Live+in+LA+%282007%29.mkv
[New I/O server worker #2-4] INFO 13:25:43.865 HTTP: get/0$0$15$2$5$7$3/John+Mayer+-+Where+the+Light+is+Live+in+LA+%282007%29.mkv / 0-0
[New I/O server worker #2-4] DEBUG 13:25:43.865 Asked stream chunk [0-0] timeseek: 0.0 of John Mayer - Where the Light is Live in LA (2007).mkv and player MEncoder
[New I/O server worker #2-4] TRACE 13:25:43.865 Starting transcode/remux of John Mayer - Where the Light is Live in LA (2007).mkv
[osx/mencoder] INFO 13:25:43.871 Starting /Applications/PS3 Media Server.app/Contents/Resources/Java/osx/mencoder -ss 0 -quiet /Users/Merlins_iMac/Movies/MKV Files/John Mayer - Where the Light is Live in LA (2007).mkv -quiet -quiet -oac copy -of mpeg -quiet -quiet -mpegopts format=mpeg2:muxrate=500000:vbuf_size=1194:abuf_size=64 -ovc lavc -channels 6 -lavdopts debug=0:threads=4 -lavcopts autoaspect=1:vcodec=mpeg2video:acodec=ac3:abitrate=384:threads=4:keyint=1:vqscale=1:vqmin=2 -aid 0 -subdelay 20000 -quiet -quiet -ofps 24000/1001 -quiet -quiet -af lavcresample=48000 -srate 48000 -o - -really-quiet -msglevel all=-1
[New I/O server worker #2-5] DEBUG 13:25:49.976 Handler infos: HTTP/1.0 : GET : get/0$0$15$2$5$7$3/John+Mayer+-+Where+the+Light+is+Live+in+LA+%282007%29.mkv
[New I/O server worker #2-5] INFO 13:25:49.976 HTTP: get/0$0$15$2$5$7$3/John+Mayer+-+Where+the+Light+is+Live+in+LA+%282007%29.mkv / 0-0
[New I/O server worker #2-5] DEBUG 13:25:49.976 Asked stream chunk [0-0] timeseek: 0.0 of John Mayer - Where the Light is Live in LA (2007).mkv and player MEncoder
[New I/O server worker #2-6] DEBUG 13:25:49.982 Handler infos: HTTP/1.1 : GET : get/0$0$15$2$5$7$3/John+Mayer+-+Where+the+Light+is+Live+in+LA+%282007%29.mkv
[New I/O server worker #2-6] INFO 13:25:49.982 HTTP: get/0$0$15$2$5$7$3/John+Mayer+-+Where+the+Light+is+Live+in+LA+%282007%29.mkv / 0-0
[New I/O server worker #2-6] DEBUG 13:25:49.983 Asked stream chunk [0-0] timeseek: 0.0 of John Mayer - Where the Light is Live in LA (2007).mkv and player MEncoder